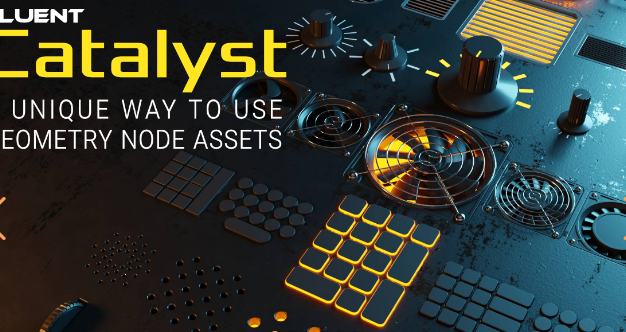 A unique way to use your geometry nodes based assets.
Build your own adjustment menu without development skills.
Build and manage your own libraries that you can reuse or sell.
A unique way to adjust geometry node based object
Adjust the object directly from the viewport with a neat menu and simple horizontal mouse move.
Tired of endless input lists? Arrange the parameters in sub-menus by theme.
Blender's sliders lack finesse? The add-on automatically adjusts the sensitivity of its scale parameters
Copy/past settings from any already added assets with the "Reuse" function
One-click reset function
No shortcut, if you already have Fluent Modeler, you can start the edition directly from the pie menu.
A built-in hard surface asset library
The add-on comes with 13 parametric assets which replace more than 100 assets.
"An asset to rule them all" Rudy alias CG Thoughts.
Potentiometer, 13 parameters
Fan, 14 parameters
Vent, 14 parameters
All assets list on documentation
Create your own library
Create custom menus and sub-menu for any assets based on Geometry Nodes in a few seconds.
Configure the menus, where you want your asset, and the add-on takes care of the rest for you, generating the menu, rendering the preview, and adding it to the library.
Menu creation for any geometry nodes based assets
Example with feather made by Meown
Share or sell your library
Once you created your library it is straightforward to make a ZIP out of it and share or sell it online.
Any user of Catalyst will be able to us it. 
Downloads: show love to dev by purchasing if you can afford it
IF THE LINKS ARENT WORKING, THEN PLEASE ACT LIKE A GROWN UP AND MESSAGE ME/ COMMENT HERE OR ON DISCORD AND I WILL UPDATE THESE LINKS QUICKLY! MAKE SURE YOU DOWNLOADING PROPER FILE WITH PROPER EXTENSION LIKE .ZIP OR .RAR
Recommended link below => FULL SPEED.
MIRRORS:
for mega and g drive links – contact admin.