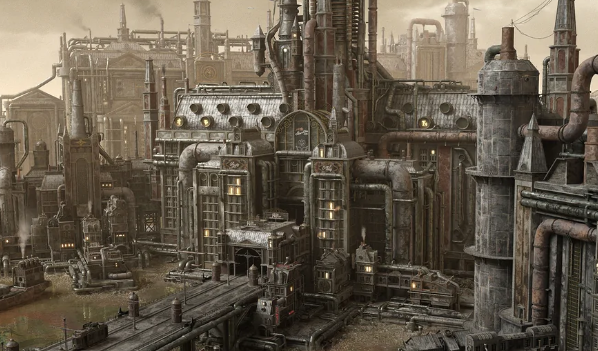 FUEL YOUR IMAGINATION
Venture into retrofuturistic dystopias or set the stage for a grungy post-modern noir with this Kit's darkly beautiful architecture inspired by Edwardian and interwar aesthetics. Full of greasy machinery, rugged materials, and industrial spires, this Kit's cathedrals, palatial institutions, libraries, pubs, hotels, trolley, railways, general stores, observatories, fuel stations, and drilling companies with oil pumpjacks provide everything you need to make cohesive fuel-powered worlds.
DieselPunk TECH SPECS
17.8 MPOLY COUNT
316 MODELS
90 MATERIALS
As part of our mission to enable and inspire creators of the virtual frontier, we hold ourselves to a high standard. We're always looking ahead to stay on top of technology trends, ensuring the assets we build are premium quality to meet the needs and expectations of any film or game studio in the industry. 
NOTE: PREMIUM LINK IS AVAILABLE FOR ALL PROGRAMS FOR ALL DONATORS.
Downloads: show love to dev by purchasing if you can afford it
IF THE LINKS ARENT WORKING, THEN PLEASE ACT LIKE A GROWN UP AND MESSAGE ME/ COMMENT HERE OR ON DISCORD AND I WILL UPDATE THESE LINKS QUICKLY! MAKE SURE YOU DOWNLOADING PROPER FILE WITH PROPER EXTENSION LIKE .ZIP OR .RAR
Filename: 4 parts , .rar format.
Recommended link below => FULL SPEED.
for pass join our discord.
TEXTURES: UPDATED 20 DEC 2022
MIRRORS:
for mega and g drive links – contact admin.