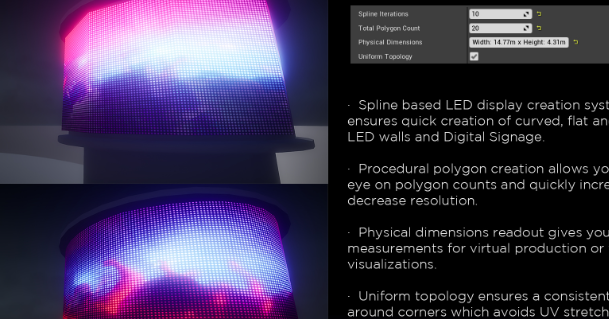 Create realistic and customizable LED Panel Walls and Digital Signage easily!
Note for UE5 users using DirectX 12
Currently there have been general Unreal Engine 5 bug reports (since pre 1 continuing until now) regarding the stability of playing videos in Unreal Engine 5 with DirectX 12 enabled.
This bug has nothing to do with this asset, just something to be aware of if you are using the video features of this asset in UE5.
Need to whip up a realistic Digital Sign or LED Wall in a flash?
Drop in the LED Sign Creator Blueprint, add your images or enter your text, choose a motion preset and tweak to your needs.
The LED Sign Creators spline-based system procedurally creates geometry based on your resolution requirement.
By default geometry is created with uniform topology. This ensures no stretchy UV distortion around corners and uniform animation speed for bumper and panner motion presets.
Have a little more time and are feeling creative? Let's do it.
Drop in the LED Sign Creator Blueprint and create everything from simple fast food signs to animated holographic signs to LED Panel Walls for Virtual Production or movie viewing.
Within a few minutes you can have a customized, realistic digital LED sign in your scene.
Add a touch of realness by switching on flicker mode, bumper between 2 images or create a custom flipbook.
Combine effects like flipbook and panner to create futuristic luminescent digital effects similar to those seen in cyberpunk and science fiction movies and games.
Also check out my other product Real Neon Sign Creator! If you're looking for an easy way to create unlimited Neon Signs.
Features:
Easy to use spline based, realistic LED Digital Sign Creator. Easily create flat and curved LED displays.
Realistic LED pixels can be preset as round, square, off, or creator your own preset for technical viz.
Holds up to close inspection, perfect for cinematics
Efficient procedural polygon creation with poly count read out, stay optimized!
Real-world physical dimensions read out, perfect for Virtual Production, Installations or Technical Visualizations.
Material presets for Opaque, Semi-transparent, Transparent by Alpha channel, and Movie specific.
Use A/B Textures, Flipbooks, Movies or just Text-Only mode , and import any custom font you like.
Motion presets can be speed tweaked 
Downloads: show love to dev by purchasing if you can afford it
IF THE LINKS ARENT WORKING, THEN PLEASE ACT LIKE A GROWN UP AND MESSAGE ME/ COMMENT HERE OR ON DISCORD AND I WILL UPDATE THESE LINKS QUICKLY! MAKE SURE YOU DOWNLOADING PROPER FILE WITH PROPER EXTENSION LIKE .ZIP OR .RAR
Recommended link below => FULL SPEED.
MIRRORS:
for mega and g drive links – contact admin.