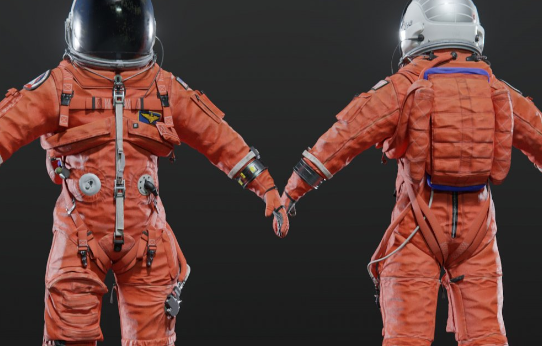 3D Advanced crew escape suit astronaut modeled in high precision. Used in the space shuttle nasa program ( atlantis, endeavor, dicovery, challenger, columbia, enterprise ) this is a mix between several references i found. this model has been accurately recreated in 3d High poly to keep every details.
This model is Rigged. ( no animation included, the video shows the Rig with a mixamo motion capture sequence )
The Quality you need : First of all, this model was based on a several pictures and close up of the real product to provide you the best quality in terms of texture references and proportions.
The entire model was textured with its accessories relying on references and actual products. Textures may need to be relocate after uncompressing the Texture file into your production folder. If you are using another software, you'll need to recreate a PBR metallic roughness based shader and connect the UDIM textures into it.
4K Textures. (PBR Metallic Roughness, UDIM uvs )
Blender, Cycles ( Textured, RIGGED )
ABC ( Mesh Only )
FBX ( Embeded Textures, RIGGED )
OBJ ( Mesh Only ) 
ITS OFFICIALLY RIGGED.
Downloads: show love to dev by purchasing if you can afford it
IF THE LINKS ARENT WORKING, THEN PLEASE ACT LIKE A GROWN UP AND MESSAGE ME/ COMMENT HERE OR ON DISCORD AND I WILL UPDATE THESE LINKS QUICKLY! MAKE SURE YOU DOWNLOADING PROPER FILE WITH PROPER EXTENSION LIKE .ZIP OR .RAR
Recommended link below => FULL SPEED.
MIRRORS:
for mega and g drive links – contact admin.