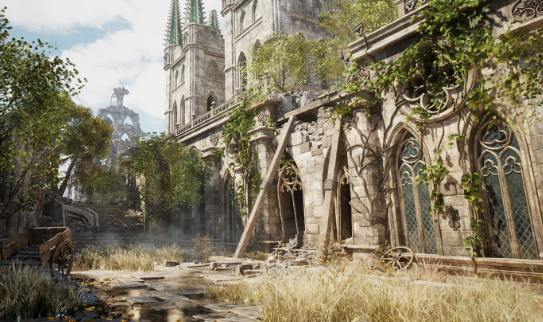 One of the main focuses of the pack is modularity and customizability to give users a wide range of choices. All the modular assets in this pack are snappable to the grid for easy assembly. The master materials used inside the pack give the user easy access to modify parameters globally.
Optimization was one of our main goals in developing this pack. All textures, models, shaders, and tools are optimized and tested in real-time build to make sure they look good while they perform well.
To showcase all the features mentioned above, we have created a playable demo in a pre-assembled environment. This way not only you can experience a cold gothic mood, but you can also measure the performance of the pack on your PC. The showcase demo targeted the highest quality possible however, the pack performance is flexible and there are many options and switches inside tools and materials that let you increase the performance of the package. You can find more details about them in the following document.
V1.01 Changes:
-Fixed issue with spline tools being invisible in the packaged game build
V1.02 Changes:
-Fixed C++ issues with construction bug
-New Lumen Lighting
-Nanite Enabled meshes
Technical Details
2 Pre-Assembled Maps (Showcase)
1 Summer Overgrown map
1 Winter map (Vertex paintable Snow)
1 Overview Map
Modular assets
Blueprints with instructions
Free Playable Demo build
3 Master-Materials
More than 105 Instances
High Quality / Light Performance Variations
310 Unique and Modular Assets
Props such as Statues, Graves, Ornaments and etc.
Modular Architecture Pieces such as Walls, Windows, Banisters, Gates, Scaffolds and etc.
Foliage such as Trees, Ground Covers, Grass and etc.
4 Pre-Assembled Mesh Blueprints
350 High Quality Textures
Tillable and Trim sheets
Unique textures
Decal textures
3 Spline based Blueprints
Highly customizable Railing tool with different Banisters, Newels and Props
Highly customizable Wall tool
Sidewalk and Pavement Tool
World Collection Parameter (Wind Speed, Snow Amount, etc…)
Game Ready and Optimized Assets
Precise hand-adjusted LODs up to 3-5 levels
Light Performance Materials
Texture Sizes: 2048- 1024- 512
Level of quality: high-end production 
Downloads: show love to dev by purchasing if you can afford it
IF THE LINKS ARENT WORKING, THEN PLEASE ACT LIKE A GROWN UP AND MESSAGE ME/ COMMENT HERE OR ON DISCORD AND I WILL UPDATE THESE LINKS QUICKLY! MAKE SURE YOU DOWNLOADING PROPER FILE WITH PROPER EXTENSION LIKE .ZIP OR .RAR
Recommended link below => FULL SPEED.
USE IDM FOR FASTER DOWNLOAD.
MIRRORS:
for mega and g drive links – contact admin.