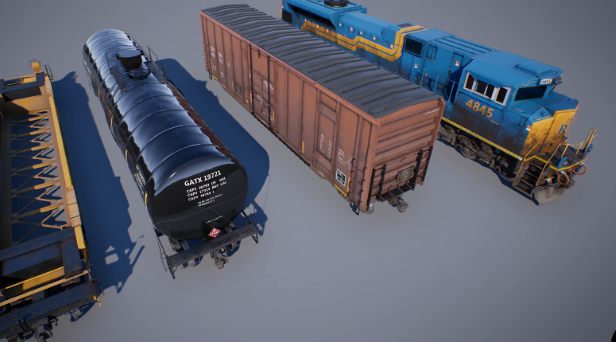 High quality train and wagon pack
includes one locomotive and three cars
note: these are just static meshes, no blueprints
Technical Details
Texture Sizes:
(12) 2048×2048
(4) 2048×2048
(1) 1024×1024
(1) 1024×256
(2) 256×256
(4) 8×8
Scaled to Epic Skeleton: Yes
Collision: Yes, Automatically Generated
Vertex Count: Max 119489 Min 12976
LODs: Yes, Automatic LOD for each mesh (different amounts 3-5 LOD)
Number of Meshes: 7
Number of Materials and Material Instances: 1 Materials and 9 Material Instances
Number of Textures: 23
Supported Development Platforms: Windows
Supported Target Build Platforms: Windows 
Downloads: show love to dev by purchasing if you can afford it
IF THE LINKS ARENT WORKING, THEN PLEASE ACT LIKE A GROWN UP AND MESSAGE ME/ COMMENT HERE OR ON DISCORD AND I WILL UPDATE THESE LINKS QUICKLY! MAKE SURE YOU DOWNLOADING PROPER FILE WITH PROPER EXTENSION LIKE .ZIP OR .RAR
Recommended link below => FULL SPEED.
MIRRORS:
for mega and g drive links – contact admin.